ABOUT
I am a Canadian perfumer who works exclusively with natural ingredients. My perfumes are best described as intense, opulent, and expressive.I launched my first perfume Moon Bloom in 2013. In 2019 my perfume Hyde won the Art & Olfaction Artisan award. This award celebrates excellence in independent, artisan and experimental perfumery. I live and work in Gouda, The Netherlands.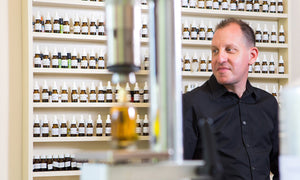 SELF-TAUGHT & RAW
Every artist expresses their creativity through a medium that speaks to them. I express mine through scent and aim to surprise and delight people with my fragrances.
My knowledge of perfume making is self-taught and raw. It took me several years to develop my own 'scent language' and have the confidence to call myself a perfumer. As I do not follow the industry norm that is taught at formal perfumery schools, I believe my perfumes have a more distinctive and personal style.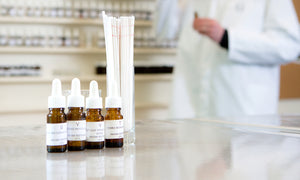 IDEAS, EMOTIONS, & MEMORIES
For me the initial inspiration for creating a perfume is random and can come from anything: song, painting or travelling. In a process that is often long, abstract ideas, emotions and memories slowly merge into a story. I create hundreds of drafts before deciding on a 'scent story' that best expresses my initial inspiration. I then develop this sketch into a perfume to share with the world.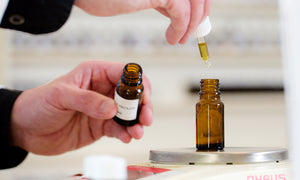 HANDCRAFTED & ENTIRELY NATURAL
Every fragrance is developed and handcrafted in small batches in my studio. After blending the ingredients together, the perfumes age for at least three months before they are bottled.
All my perfumes are made from 100% natural and sustainable ingredients that are ethically sourced, free of GMO and cruelty-free. I do not use any ingredients of animal origin, except for beeswax in Slowdive. All fragrances have a base of organic grain alcohol.
The rich colours in my perfumes all derive from the ingredients therein. Colouring is never added.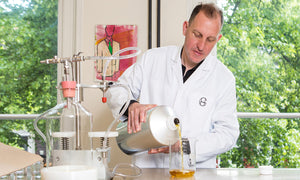 LOWERING MY ENVIRONMENTAL FOOTPRINT
The cardboard that I now use in my packaging is made from unbleached agricultural waste. It is 100% tree-free, sustainable and can be recycled in the same way as traditional paper. The glass bottle can obviously also be recycled.
Most perfume boxes are wrapped in cellophane to seal and protect the perfume. I find this an unnecessary use of plastic.  Instead, I use a paper sticker to seal and protect my perfumes.
These are small steps to more sustainable packaging. There is still more that can be done, and I am busy working on it.